Aroma Yoga® combines Polarity Exercises, knowledge of the Elements, Chakras and pure Essential Oils which enhance and deepen our yoga practice. The scents and applications of essential oils are transmitted on a molecular level directly to the part of our brain that controls emotional response and memory that can help with emotional balance, energy, well-being and deep relaxation.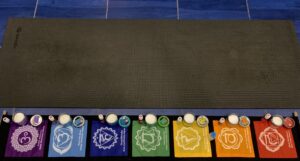 We begin with a short centering or Attunement to embrace our intention with the power of aromatherapy. Each class may have a different theme based on the Chakras or Elements, addressing those characteristics or reflecting current affairs. If music is appropriate for this class, we have an awesome sound system and killer playlists. You will be lead through Asanas, Polarity Exercises, gentle pauses of Pure Essential Oil applications, and maybe some Fascia Release or QiGong.
Breathing in essential oils stimulates areas of your limbic system, which is the part of your brain that plays a role in emotions, behaviors, sense of smell, and long-term memory. From long ago to today, aromatic botanicals were and still are used to aid meditation and alter mood. Scent can create an environment that encourages mindfulness and a feeling of balance — which further enhances the benefits of your yoga practice.
Stay tuned for themed offerings!