Red Light Therapy
Red light therapy has been studied and tested across hundreds of peer-reviewed clinical trials, with overwhelmingly positive results for skin health, collagen production, muscle recovery, sleep, joint pain, inflammation, and several other health benefits.
Many health leaders subscribe to the vast array of health, anti-aging, and healing properties of red light therapy.
Special red light wavelengths stimulate the mitochondria in your cells, the powerhouses responsible for taking light, oxygen, and the food we eat and turning it into usable energy for our bodies through the process of cellular respiration.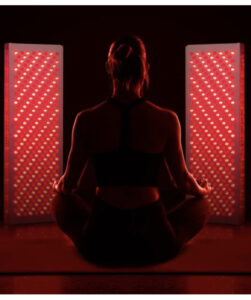 Increase in antioxidant efficiency and reduced oxidative stress
Better circulation to heal faster
More Collagen production
Anti-aging benefits and better skin tone
Joint pain reduction
Cellulite reduction through increased ATP production
Most conditions that can be treated with red light require multiple sessions for at least one to four months or more, and many conditions such as chronic skin disorders benefit from ongoing maintenance treatments.
Red light isn't a cosmetic fix. Rather, it supports healing from within by boosting cellular health, which results in a beneficial ripple effect.
And when combined with our Vibration Plate Therapy, even more effective ….
Red Light Health Benefits
Autoimmune Diseases
Brain Disorders
Athletic Performance
Cancer Therapy Side Effects
Cellulite
Cognitive Function
Detoxification
Eyesight
Hair Growth
Healing
Heating
Hormone Production
Reduces Inflammation
Increases Libido
Supports Mood
Pain
Relaxation
Skin Conditions
Sleep
Tissue Regeneration
Weight Loss
Muscle Recovery
Muscle Conditioning
**This information is not intended to cure, diagnose, or treat medical conditions, nor is it a substitute for the product user's guide. Please consult with a physician before beginning this or any other new health care program. Any information with regard to personal testimonies does not reflect or represent any product claims. These statements have not been evaluated by the FDA.
See our Sessions.
Click here to schedule.