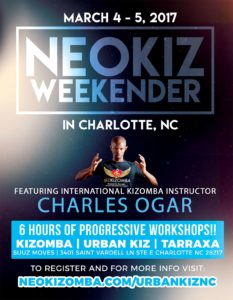 Coming all the way from Austin, TX, gear up for a fun-filled weekend in which you will learn Charles Ogar's unique and progressive method towards teaching kizomba. Charles offers an exciting approach to learning the technique, musicality, and style that has earned him respect from kizomba communities throughout North America and Europe. These all-level, progressive workshops will help those beginning their kizomba journey to establish strong foundations, as well as challenge those looking to take their dancing to the next level. This will be a weekend not to be missed! Come join us for SIX HOURS of progressive workshops! Important Note: This workshop is limited in space! There are only 15 leads and 15 follows spaces available!
Get your pass here with this link: https://neokiznc.eventbrite.com/
The first 5 leads and first 5 follows will get the following perks!
Perks:
==Raffle for a free pass to Neokiz Festival
==1 Month Free to Online Lessons to Learntokiz.com
==Dropbox link of 100 free urban kizomba songs
Contact Victoria for scheduling and pricing private lessons with Charles at 423-202-8033 or PM on Facebook.
Tentative Weekend Schedule
++Thursday – March 2nd
===Social dancing at BluNotes
++Friday – March 3rd
===Open for privates
===9 PM – 2 AM: Social + Intro Lesson
$5 Social Only, $10 Class + Social
——–Location: Suuz Moves
++Saturday – March 4th
===Open for privates
===1 – 4 PM: Workshops
——–Location: Suuz Moves
===Open for privates
===9 PM – 1:30 AM – Kizomba Charlotte Social (Eric & Veronika)
$10 Cover (not included in the full pass)
——–Location: Move Studio
++Sunday – March 5th
===Open for privates
===1 – 4 PM: Workshops
——–Location: Suuz Moves
===Open for privates
Workshop Topics
++Saturday – March 4th
===The Glorious Basics of Intention
===The Hidden Language of Precise Weight Transfer
===Silky Smooth Saidas
Sunday – March 5th
===Mindful Musicality Moments
===Fun Entrances & Exits of T-Bone Variations
====Intermediate Urban Kiz Saida Variations
Get your pass here with this link: https://neokiznc.eventbrite.com/